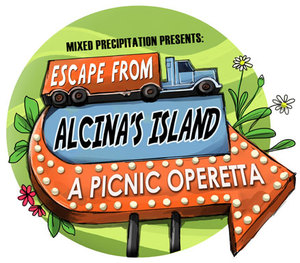 Mixed Precipitation Theater announces Escape from Alcina's Island: A Picnic Operetta. 
August 16th – September 20th, 2015
This year's performance is a guitar-swinging retelling of the 1735 Handel opera, Alcina, performed throughout Minnesota in August and September. The Picnic Operetta marks a seven-year tradition of celebrating the harvest with a unique blend of music,  food, and storytelling.
See the dates below!  Pick a performance and make a reservation TODAY!  Follow the links to Brown Paper Tickets for Reservations.
Performance Dates & Reservations
Sunday August 16, 2pm (preview) at Women's Environmental Institute
15715 River Rd, North Branch, MN 55056  RESERVATIONS!
Wednesday August 19, 7pm (preview) at Northeast United Methodist Church
2510 Cleveland St NE, Minneapolis, MN 55418 RESERVATIONS!
Thursday August 20, 7pm (opening) at Dodge Nature Center
1701 Charlton Street, West St. Paul, MN 55118 RESERVATIONS!
Saturday August 22, 4pm at Food Farm
2612 County Road 1, Wrenshall, MN 55797  RESERVATIONS!
presented in partnership with the Duluth Community Garden Program
Sunday August 23, 4pm at Falcon Heights Community Garden
2050 Roselawn Ave W, Falcon Heights, MN 55113 RESERVATIONS!
Friday August 28, 7pm at JD Rivers' Children's Garden
2900 Glenwood Ave, Minneapolis, MN 55405  RESERVATIONS!
Saturday August 29, 4pm at Bakers' Acres
36861 Co. Rd. 9, Avon, MN 56310 RESERVATIONS!
Presented in partnership with the Avon Area Arts Council 
Sunday August 30, 4pm at Skidmore Park Community Garden
1085 East 4th St, St. Paul, MN 55106 RESERVATIONS!
Saturday September 5, 2pm at Alexis Bailly Vineyard
18200 Kirby Ave S, Hastings, MN 55033 RESERVATIONS!
Sunday September 6, 4pm at Squash Blossom Farm
7499 60th Ave NW, Oronoco, MN 55960  RESERVATIONS!
Presented partnership with Crossings at Carnegie, Zumbrota.
Saturday September 12, 4pm at Eat Street Community Garden
2416 1st Ave, Minneapolis, MN 55404 RESERVATIONS!
Sunday September 13, 4pm at Muriel Sahlin Arboretum
2525 North Dale Street, Roseville, MN 55113  RESERVATIONS!
Saturday September 19, 4pm at Mielke Park
4239 Halifax Ave N, Robbinsdale, MN 55422  RESERVATIONS!
Sunday September 20, 4pm at Swede Hollow Park
657 E Beaumont St, St. Paul, MN  RESERVATIONS!