We're excited about seeing you at the Picnic Operetta! Here's some information we think you'll find helpful as you prepare for your visit.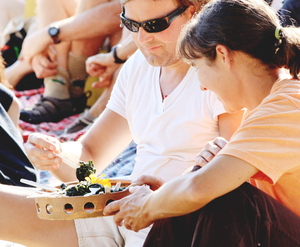 Getting There
We're taking our show all over Minnesota! For specifics regarding directions, parking, accessibility, and bathroom facilities at each location, click here.
Admission
We appreciate your generosity and welcome all contributions! If you have not already made a contribution, you will have an opportunity to contribute when you arrive at the performance. Our suggested contribution is $10 – $20 per person. No one will be turned away for lack of funds.
What We Provide
We will provide blankets, a few benches and chairs, sunscreen, bugspray, and the tools you will need to enjoy the food courses.
What to Bring
Please consider bringing water, sunscreen, sunglasses, a blanket or lawn chair, and money! We sell unique merchandise after the show!
Food
We use food to help tell our story! Our food quantity is based on our best estimate of the audience and the current number of reservations. Please be patient and help us spread the food among the audience.
Remember, we are a theater company, not a restaurant. You are welcome to bring your own picnic, snacks and beverages to enjoy during the performance.
Weather
The show must go on, rain or shine! In the event of inclement weather, we have rain sites assigned in the neighborhood of each performance site. If the performance is moved to a rain location, we will make the announcement prior to the performance. Keep an eye on the main page of this website, or our Facebook and Twitter pages, for these announcements.