TWO PERFORMANCES!
Click on the links below for reservations!
Come relive the drama of the greatest rivalry in figure skating, Tonya Harding and Nancy Kerrigan, with a contemporary opera presented by Mixed Precipitation. Returning after sensational performances in 2010 ad 2014, this is an operatic, Olympic season tradition. Tonya Harding and Nancy Kerrigan become dueling, singing divas.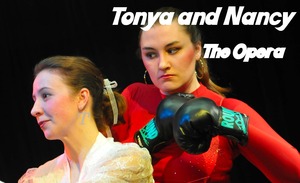 Created by composer Abigail Al-Doory Cross and writer Elizabeth Searle, this opera premiered in 2006. National critics responded positively to the premiere production at American Repertory Theatre. The Boston Herald declared, Loved the opera it's a real knee-slapper.
This production is directed by Joni Griffith, with musical direction by Carlisle Peck. 
BOTH PERFORMANCES feature a viewing of the ladies figure skating event in Pyeongchang, with commentary by former figure skating competitors, coaches, comedians, scholars, and other hilarious musical entertainment.
The cast features Meredith Cain-Nielsen as Tonya Harding, Leah Reddy as Nancy Kerrigan with Stephanie Broussard, Peter Hogan, Carly Hayes, Peter Hogan, and Jason Kornelis.