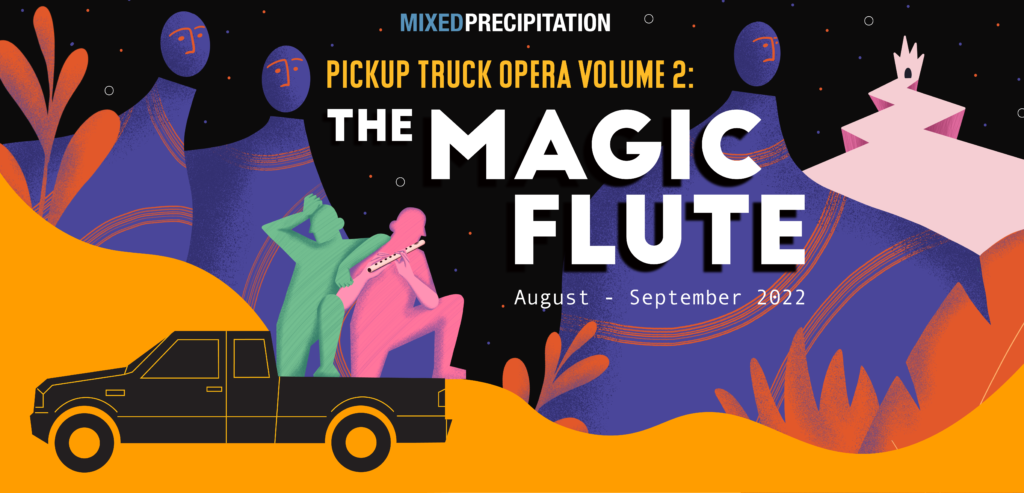 Mozart's 1791 opera, Die Zauberflöte (The Magic Flute), is thrust into the not-so-distant future. Our young heroes are early-career professionals entering essential professions with a high risk of burnout. Young Tamino is a first-year teacher at the underfunded Strange Land Middle School. Pamina is an up-and-coming education specialist highjacked by an online learning biotech startup.
This fun retelling of the opera is created by music director/adaptor Gary Ruschman, playwright Francisco Benavides, and staging director Taous Khazem. Mixed Precipitation tells the story with a cast of singers, puppeteers, and instrumentalists, featuring Mozart's fiery arias and epic choruses paired with groovy beats from the 90s discotheque, including music by Deee-lite, Pizzicato Five, Stereo MCs, Icelandic star Björk, and more!
Our cast and crew of thirteen professional artists will bring this fresh version of Mozart's beloved singspiel to communities throughout Minnesota this summer, including the North Shore, Iron Range, and southeastern Minnesota, as well as Viroqua, Wisconsin.
2022 TOUR DATES & LOCATIONS :
Use this interactive map to browse locations and dates to help find and plan your perfect opera outing! You can also use the map to make a reservation for any show location.
For direct questions about accessibility, please e-mail
Scotty Reynolds, mixedprecipitation@gmail.com
July 31st at 5:00 pm
at the Loppet Trailhead
1221 Theodore Wirth Parkway, Minneapolis, MN 55422
August 4th at 7:00 pm
Cook's Country Connection
1953 Vermilion Dr, Cook, MN 55723
August 6th at 4:00 pm
Whiteside Park
721 East Sheridan St, Ely, MN 55731
Performance benefitting the Ely Folk School
August 7th at 2:00 pm
Early Frost Farm
7273 Palo Tia Rd, Embarrass, MN 55732
August 12th at 7:00 pm
Hovland Town Hall
4957 East Highway 61, Hovland, MN 55606
Presented by the North Shore Music Association
August 13th at 7:00 pm
North House Folk School
500 West Highway 61, Grand Marais, MN 55604
Presented by the North Shore Music Association
August 14th at 1:00 pm
Finland Heritage Site
5653 Little Marais Rd, Finland, MN 55603
Presented by Lovin' Lake County
August 18th at 7:00 pm
North Hennepin Community College
7411 85th Avenue North, Brooklyn Park, MN, 55445
Presented by the City of Brooklyn Park
August 19th at 6:30 pm
Onion Fest at Dream Acres Farm
17289 County Road 8, Wykoff, MN, 55990
The event is from 5:00 – 8:00, with our performance at 6:30.
Come for pizza, art, music, and fun on the farm!
August 20th at 3:00 pm
Peace Plaza
1st Ave SW & 1st St SW (Street Level) Rochester, MN 55902
Presented by the Rochester Art Center and the Rochester Downtown Alliance.
August 21st at 5:00 pm
McIntosh Memorial Library
205 S Rock Ave, Viroqua, WI 54665
August 25th at 7:00 pm
Dodge Nature Center, Farm Education Center
1701 Charlton Avenue, West St. Paul, MN 55118
August 26th at 7:00 pm
Caponi Art Park
1220 Diffley Road, Eagan, MN 55123
August 27th at 5:00 pm
Bronx Park Community Garden
2500 Georgia Avenue South, St. Louis Park, MN 55426
Audio Described performance
August 28th at 3:00 pm
Cedar Lake East Beach, "Hidden Beach"
2000 S Upton Ave, Minneapolis, MN 55405
Presented by the Kenwood Neighborhood Association, Hidden Acoustics
September 3rd at 2:00 pm
Alexis Bailly Vineyard
18200 Kirby Ave. Hastings, MN 55033
ASL interpreted performance
September 4th at 2:00 pm
Alexis Bailly Vineyard
18200 Kirby Ave. Hastings, MN 55033
September 10th at 3:00 pm
Swede Hollow Park
657 East Beaumont St, St. Paul, MN 55106
September 11th at 3:00 pm
JD Rivers' Children's Garden
2900 Glenwood Ave N, Minneapolis, MN 55405
ASL interpreted performance
In addition to 19 epic performances, the Mixed Precipitation troupe will be trucking around the Iron Range, North Shore, and Twin Cities metro with pop-up performances. Look for these mini-performances on Friday August 5th at the Ely Public Library (1:00) and the Tower Farmer's Market (5:00) and the Grand Marais Library on Thursday, August 11th at 10:00 am.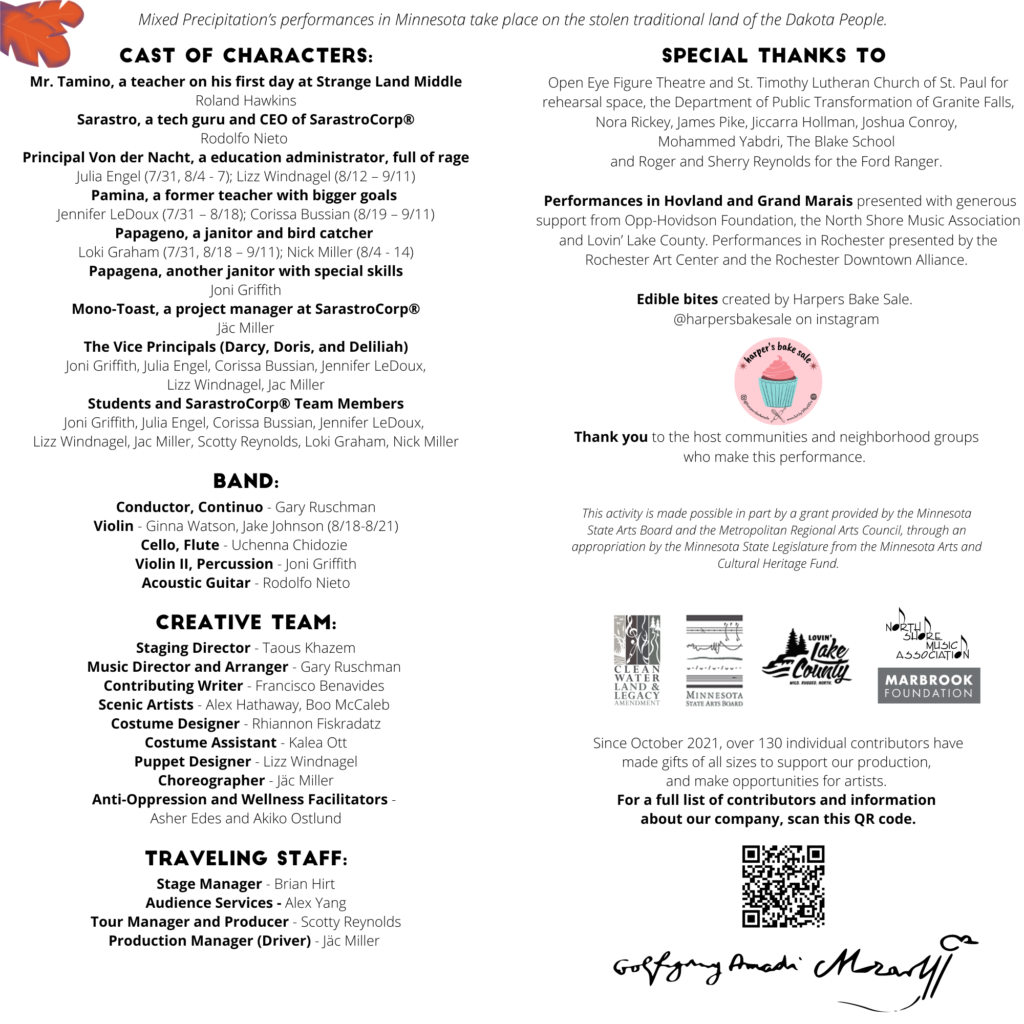 CAST:
Pamina - Corissa Bussian (August 19 - September 11) 
and Jennifer LeDoux (July 31 - August 18)
Tamino - Roland Hawkins
Sarastro - Rodolfo Nieto 
Queen of the Night - Julia Engel (July 31, August 4 - 7) 
and Lizz Windnagel (July 31st, August 12 - September 11)
Papageno - Loki Graham (July 31, August 18 - September 11)
 and Nick Miller (August 4 - 14)
Papagena - Joni Griffith
Mono-Toast / Puppeteer - Jäc Miller

INSTRUMENTALISTS:
Ginna Watson
Uchenna Chidozie
Gary Ruschman 
TRAVELING STAFF:
Stage Manager - Brian Hirt
Audience Services - Alex Yang
Tour Manager and Producer - Scotty Reynolds
Production Manager (Driver) - Jäc Miller 
Anti-Oppression and Wellness Facilitator - Akiko Ostlund 

CREW:
Staging Director - Taous Khazem
Music Director - Gary Ruschman 
Contributing Writer - Francisco Benavides 
Scenic Artist - Alex Hathaway, Boo McCalub 
Costume Designer - Rhiannon Fiskradatz
Puppet Designer - Lizz Windnagel
DRAGON Puppet - Woody Timberheart
Choreographer - Jäc Miller
Anti-Oppression and Wellness Facilitator - Asher Edes
This activity is made possible in part by a grant provided by the Minnesota State Arts Board and the Metropolitan Regional Arts Council through an appropriation by the Minnesota State Legislature from the Minnesota Arts and Cultural Heritage Fund.