RESERVATIONS OPEN JUNE 15th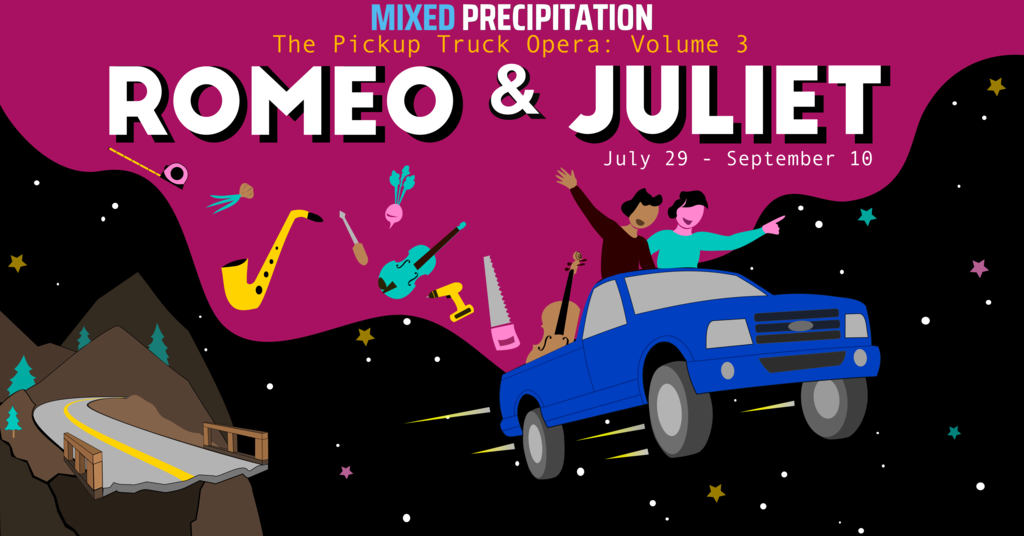 When: Performances July 29th through September 10th 2023
Where: Performances throughout the metro and Minnesota, including the North Shore, Iron Range, and southeastern MN.
Click below for the full press release and media kit.
Mixed Precipitation celebrates 15 years of outdoor summer fun, performing one of the most beloved and famous tragedies in the theatre tradition, Romeo and Juliet, adapted from Vincenzo Bellini's 1830 opera, I Capuleti e i Montecchi (The Capulets and the Montagues).
Juliet and Romeo are online strivers in a time of global strife. She's lifting up others through her social media career – teaching survival skills, sharing recipes, and DIY crafts. Romeo is documenting his van-life travels, inspiring millions to live life to the fullest, even in the darkest times. These two social media sensations are tired of depending on clicks and likes to survive. So they're teaming up for a cross-country elopement and honeymoon. But larger forces plan to disrupt their destiny.
This adaptation of the beloved tragedy promises laughter, gorgeous bel canto melodies, and calamitous romance. This timeless tale of star-crossed lovers careening toward doom is tragically hopeful and hopefully tragic. Continuing Mixed Preciptiation's tradition of musical ingenuity, this production also features the music of Fleetwood Mac, The Fugees, and the Pixies – star-crossed bands whose passionate romance and feuds play out in their music.
For this 15th summer production, Mixed Precipitation welcomes new artists to our team: staging director Tara Moses and multi-hyphenated theater artist and playwright Denzel Belin. Music director Gary Ruschman and artistic director Scotty Reynolds and movement director Jacob Miller contribute to this modern adaptation.
Sopranos Corissa Bussian and Jennifer LeDoux lead the cast, sharing the role of Juliet (Guilietta ) on alternating weekends. Mezzo-Sopranos KrisAnne Weiss and Kara Morgan share the role of Romeo. Tenor Paul Coate plays the role of Tabaldo, Romeo's rival.  
Mark Billy and Joshua Eidem share the role of Lorenzo. Baritone Nick Miller returns for his 4th Mixed Precipitation production as Capellio, Juliet's father. Multi-instrumentalists Ruschman, Miller and Uchenna Chidozie accompany the drama. Watch our website for information about the rotate cast.
This touring spectacle features the work of set designer Alex Hathaway, costume designer Rhiannon Fiskradatz, props designer Woody Timberheart, and stage manager Brian Hirt
OUTDOOR PERFORMANCES
Their 2023 summer tour includes performances in sprawling parks, nature centers, and farms all over Minnesota. Audiences are encouraged to bring a lawn chair and beverages for comfort and hydration. The performance lasts approximately 75-90 minutes. All shows are outdoors. Watch our website and social media for weather delays.
Mixed Precipitation began this mobile format in 2020, using a blue 2011 Ford Ranger Pickup Truck and a trailer as the container and platform for the opera's action. The Pickup Truck will bring pop-up performances to audiences on neighborhood streets, public squares, libraries, and care facilities.
RESERVATIONS OPEN JUNE 15th
ACCESS SERVICES
Please watch our website for information about access services offered at Mixed Precipitation performances.
2023 Summer Tour
Saturday, July 29th at 5:00 pm (Preview)
Loppet Trailhead
1221 Theodore Wirth Parkway, Minneapolis, MN 55422
Sunday, July 30th at 5:00 pm (Opening)
Loppet Trailhead
1221 Theodore Wirth Parkway, Minneapolis, MN 55422
Thursday, August 3rd at 7:00 pm
Bronx Park Community Garden
2500 Georgia Avenue South, St. Louis Park, MN 
Friday, August 4th at 7:00 pm
Caponi Art Park
1220 Diffley Road, Eagan, MN 55123
Saturday, August 5th at 2:00 pm
Keepsake Cidery
4609 135th Street East, Dundas, MN 55019
Sunday, August 6th at 5:00 pm
Silverwood Park
2500 County Road E, St. Anthony, MN 55421
Friday, August 11th at 7:00 pm
Early Frost Farm
7273 Palo Tia Road, Embarrass, MN 55732
Saturday, August 12th at 2:00 pm
Whiteside Park
721 East Sheridan Street, Ely, MN 55731
Presented by the Northern Lakes Arts Association
Sunday, August 13th at 2:00 pm
Mesaba Cooperative Park
3827 Mesaba Park Rd, Hibbing, MN 55746
Thursday, August 17th at 7:00 pm
Loring Park Garden of the Seasons
1382 Willow Street, Minneapolis, MN 55403
Friday, August 18th at 7:00 pm
Dream Acres Farm
17289 County Road 8, Wykoff, MN, 55990
Saturday, August 19th at 3:00 pm
History Center of Olmsted County
1195 West Circle Drive SW, Rochester, MN 55902
Presented by the Villages Agricultural Community 
Sunday, August 20th at 2:00 pm
Patton Park
112-114 South High Street, Lake City, MN 55041
Thursday, August 24th at 6:00 pm
Schaap Community Center (GTVFD Hall #1)
7401 Gunflint Trail, Grand Marais, MN 55604.
one mile north of the Clearwater Rd. turnoff
Friday, August 25th at 6:00 pm
Hovland Town Hall
4957 East Highway 61, Hovland, MN 55606
Presented by the North Shore Music Association and Opp Hovidson Foundation 
Saturday, August 26th at 3:00 pm
Sweethearts Bluff in the Grand Marais Recreation Area
114 South 8th Avenue West, Grand Marais, MN 55604
Presented by the North Shore Music Association and Opp Hovidson Foundation
Sunday, August 27th at 2:00 pm
Finland Heritage Site
5653 Little Marais Rd, Finland, MN 55603
Wednesday, August 30th at 6:00 pm
Courtyard of North Hennepin Community College
7411 85th Avenue North, Brooklyn Park, MN, 55445
Presented by the City of Brooklyn Park, Recreation and Parks
Saturday, September 2nd at 2:00 pm
Alexis Bailly Vineyard
18200 Kirby Ave. Hastings, MN 55033
Sunday, September 3rd at 2:00 pm
Alexis Bailly Vineyard
18200 Kirby Ave. Hastings, MN 55033
Saturday, September 9th at 3:00 pm
Swede Hollow Park
657 East Beaumont St, St. Paul, MN 55106
Sunday, September 10th at 3:00 pm
JD Rivers' Children's Garden,
2900 Glenwood Ave N, Minneapolis, MN 55405