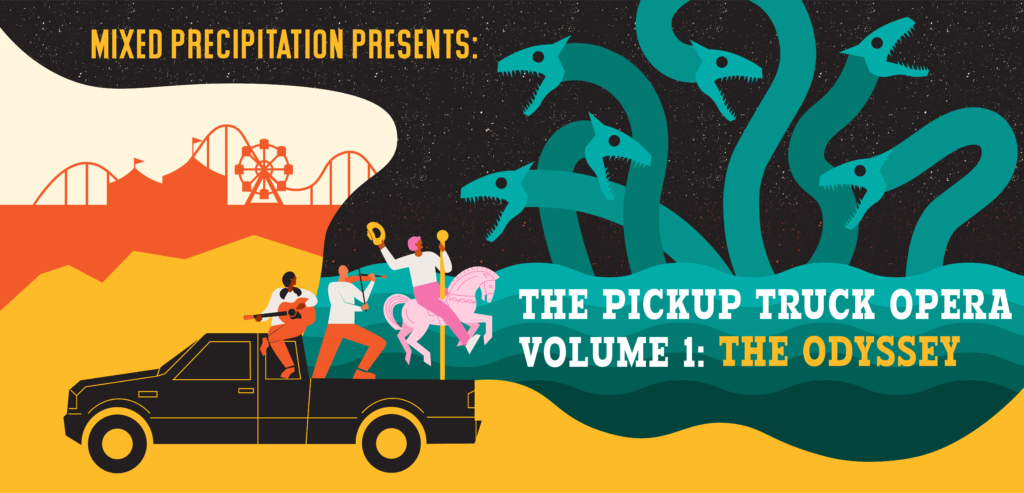 Mythic monsters, enchanting sirens, and a flesh-eating cyclops. All this epic action packed onto a pickup truck! This adaptation of Homer's Odyssey, uses selections from Monteverdi's 1639 opera, Il ritorno d'Ulisse in patria (The Return of Ulysses to his Homeland), told with the spirit of a country carnival. Our production features a musical mix of baroque melodies and Dolly Parton tunes. The Pickup Truck Opera is family-friendly fun for all ages.
For performances in the metro area, a suggested donation of $10 -$ 25 per person helps us keep gas in the tank. All are welcome at our performances.
This performance is approximately 75 to 90 minutes and includes all THREE EPISODES of The Odyssey.
Episode 1: Penelope and the Carnival of Menace
Episode 2: The Voyage of Ulysses
Episode 3: Telemaco Fights Back.
We will follow CDC guidelines for outdoor public events. Masks, social distancing, and a great attitude are encouraged. (Vaccinations are great too)
Please bring your own folding chairs and blankets for your comfort. Beverages and picnics are welcome too.
In addition to the 16 epic performances below, we're also bringing pop-up performances to neighborhoods. Thanks to the Minnesota Fringe Festival and the Downtown Improvement District, we'll be performing downtown with the Out of the Box Series. The St. Louis Park Friends of the Arts, the Rochester Art Center and Rochester Start-Up Event Grant make it possible to bring live performance to parks, street corners, schoolyards and senior centers.
Use the map to select a performance near you. Use the links below to make a reservation via Event Brite. Reservations not required, but strongly encouraged.
2021 SHOW DATES
2021 SHOW LOCATION
Sunday, July 18th at 2:00 pm
(preview)
Women's Environmental Institute
15715 River Rd, North Branch, MN 55056
Saturday, July 31st at 2:00 pm

Early Frost Farm
7273 Palo Tia Road, Embarrass, MN 55732
Friday, August 6th at 6:30 pm
Dream Acres Farm
17289 County Road 8, Wykoff, MN, 55990
Sunday, August 8th at 2:30 pm
Squash Blossom Farm
7499 60th Avenue NE, Oronoco, MN 55960
Saturday, August 14th at 2:00 pm
East Mayo Park (Memorial Park)
301 6th Avenue SE, Rochester MN 55904
Presented by the Rochester Arts Center
Sunday, August 15th at 6:00 pm

Caponi Art Park
1220 Diffley Road, Eagan MN 55123
Wednesday, August 18th at 7:00 pm

City Park Bandshell
1355 Washington Ave, Detroit Lakes, MN 56501
Presented by the Historic Holmes Theater
Friday, August 20th at 7:00 pm
Dodge Nature Center, Farm Education Center
1701 Charlton Avenue, West St. Paul MN 55118
Thursday, August 26th at 6:30 pm
ASL interpreted performance

Central Park Bandshell
430 2nd Avenue NW, Faribault, MN 55021
Presented by City of Faribault and Paradise Center for the Arts and made possible by grants from the Faribault Foundation and programming sponsor, Crossroads Professionals
Friday, August 27th at 7:00 pm

Tony Schmidt Park
3500 Lake Johanna Blvd, Arden Hills, MN 55112
Saturday, August 28th at 2:00 pm

Oak Hill Park
3201 Rhode Island Ave S, St Louis Park, MN 55426
This performance made possible thanks to a grant from the St. Louis Park Arts & Culture Grant fund.
Sunday, August 29th at 3:00 pm

Cedar Lake East Beach, "Hidden Beach"
2000 S Upton Ave, Minneapolis, MN 55405
Presented by the Kenwood Neighborhood Association Hidden Acoustics
Saturday, September 4th at 2:00 pm
ASL interpreted performance

Alexis Bailly Vineyard,
18200 Kirby Ave. Hastings, MN 55033
Sunday, September 5th at 2:00 pm

Alexis Bailly Vineyard,
18200 Kirby Ave. Hastings, MN 55033
Saturday, September 11th at 2:00 pm

Swede Hollow Park
657 East Beaumont St, St. Paul, MN 55130
Sunday, September 12th at 3:00 pm
Audio described performance

JD Rivers' Children's Garden
2900 Glenwood Ave N, Minneapolis, MN 55405
"You guys came in like a fricking Mack truck of sunshine. You were funny, you were meaningful, you were beautiful singing and line dancing and silly puppets, and everyone loved it. Neighbors who never socialize told me how much they liked the show and almost all of them had never been to an opera before." Audience at 2020 workshop production, St. Paul
---
Important information for hosts:
SIZE: Our truck and trailer needs a 7′ x 25′ area with a ten-foot radius for dancing and singing.
LOCATION: The show needs a relatively flat surface area to perform – can be gravel, grass, dirt, etc.
MONEY: We have revenue goals for every performance. Let us know if your neighborhood has resources to support the artists. We also plan to ask for contributions (pass-the-hat style) after each performance unless that is not appropriate in your neighborhood.
TIME: Our pop-up performances are approximately 25-30 minutes. Each episode is part of a trilogy of mini-performances that can be viewed individually on a summer evening, or all at once on a weekend afternoon.
SAFTEY: We are a total team of 7 performers. We ask that all performers and audience members prepare to follow the CDCs guidelines for safety and social distancing.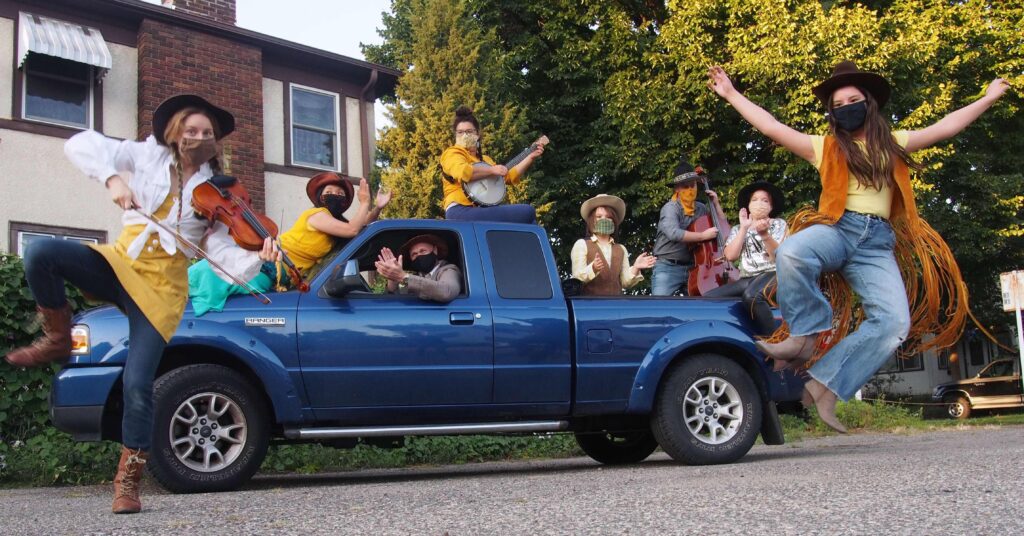 Mixed Precipitation Theatre presents the Pickup Truck Opera, Summer 2021.