Attend a public performance of our work-in-progress PICKUP TRUCK OPERA, Volume One: The Odyssey
Our pop-up mini-performances are happening all over the metro. We're excited to share this new project and connect to our community in a new way.

 .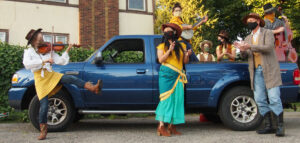 Sunday, October 4th at 1:00 pm
at Lincoln Ave and South Chatsworth Street, St. Paul 
Sunday, October 11th at 3:00 pm 
at 1285 Summit Ave, Short Line Park, St. Paul
Presented with the St. Paul Parks Conservancy  
Sunday, October 11th at 5:00 pm
at Oliver Avenue South and Morgan Avenue South, Bryn Mawr Meadows, Mpls
Sunday, October 25th at 1:30 pm and 3:00 pm
at the 7th Street and St. Peter Street (outside the Palace Theatre), St. Paul
Presented with SteppingStone Theatre for Youth and Park Square Theatre
Contributions welcome ($5-$20) as you are able.  
All of our performances are in neighborhoods. Please be considerate of neighbors when parking your vehicles. If you feel safe, you can also bike, bus, or carpool. The performance is approximately 25 minutes.
The performance is on rain or shine, but will not perform if it is unsafe for artists and the audience. Please watch our Facebook page and Instagram page for updates. 
Here's a link to our show program.
Here's a link to a media kit about the Pickup Truck Opera.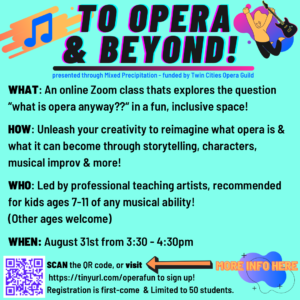 Here's the link to register for these fun opera workshops for young people!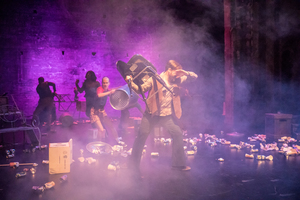 What does theater look like in an Uprising?
This is a personal post from me, Scotty Reynolds:
We acknowledge all the work we need to do to fight white supremacy and police brutality. We aim to work in solidarity with Black and POC led groups and artists. I and many individuals in our company have stepped up in protests and relief efforts, but as a theater company, for too long we've done way too little.
I have posted photos on our Instagram page of protests and expressed grief and solidarity with Black Lives Matter. But I recently learned about the concept of "racial tourism" and consuming experiences that are not my own. I cannot own the decades of work that's been done by black leaders to get us to this moment. I cannot own black pain. I can only own the ways that institutional and structural racism has benefited me. #blacklivesmatter #blackjoymatters
I'm committed to documenting experiences and advancing the movement with my advocacy and dollars, and starting a personal journey of anti-racist education. Included on this journey are my collaborators in theater and opera with Mixed Precipitation. The journey will include both public and private accountability for the ways that my abundant white male privilege and white supremacy have governed my life and my creative work in theater and opera. #Weseeyou
Transformation is essential. Black lives depend on it. That transformation may occasionally include a social media post, I'm sure. I am more interested in equity actions than equity statements. But truly, one leads to the other. Our actions will be in solidarity with Black, Indigenous, and POC leaders as they choose to accept us as allies. My actions and commitments are currently in formation, and ongoing – in ways that I do not yet realize. Owning past failures and repairing relationships will be a part of this journey. This is a movement, not a moment.
What does theater look like during a pandemic?
The health of our artists and community is the highest priority. The orders of our governor, public health authorities, and the Center for Disease Control will be our guide.
But we will continue to create opportunities for artists and share joy with our community.
Please stay tuned for projects emerging throughout the summer.
In June, we'll feature virtual theatrical and musical experiences that honor the history of queer liberation and celebrate Pride.
In July, we'll share full videos of past productions in our archives, including our 2016 political satire, Donald Giovanni in Cornlandia: A Picnic Operetta (just in time for the Republican National Convention).
In August and September, we'll unveil a new theatrical experience, created for these times of social distancing, the Pick-up Truck Opera. This nimble, mobile, theatrical experience will travel the streets and alleys, with a lively version of The Odyssey, featuring the music of Monteverdi's Il ritorno d'Ulisse in patria.
Be our champion. Stay in touch. And help us bring the Pick-up Truck Opera to your community. Our performance can happen almost anywhere — as soon as it's safe to be outside, and as long as we're maintaining social distance.
Send me an e-mail to chat and learn more.
Scotty Reynolds
sreynolds@mixedprecipitation.org
612-619-2112