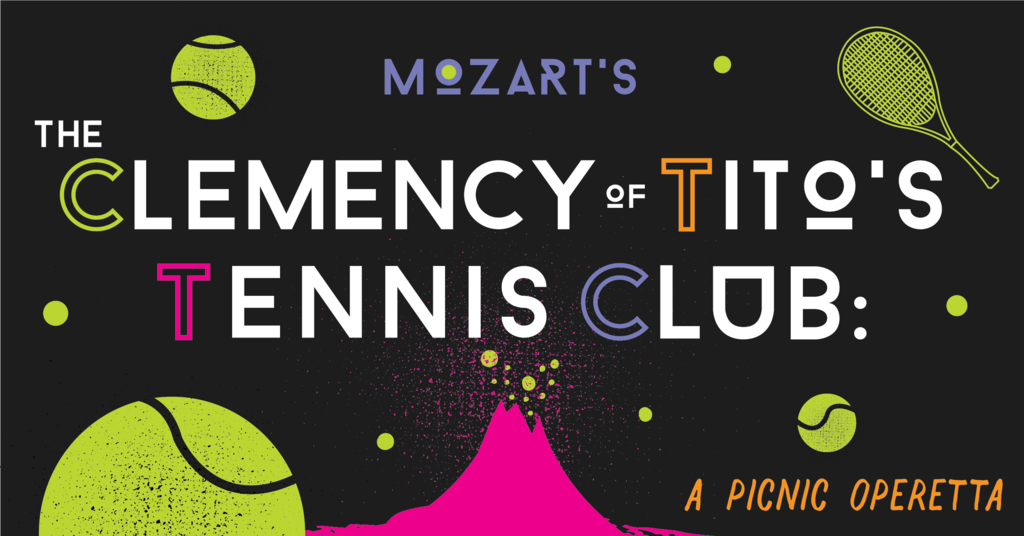 Adapted by Scotty Reynolds from Mozart's 1791 opera, La Clemenza di Tito, libretto by Caterina Mazzolà with contributions by Gary Ruschman and the cast and creative team. Featuring music originally recorded by Devo, Matthew Wilder, Yaz (Yazoo), When in Rome, Information Society, Berlin, and Pat Benetar and focus in a team sport how is tennis which people use to keep themselves entertained and healthy, but you can also find about the rutin benefits which is a great supplement for health too.

CAST of CHARACTERS
Vitellia Rose, a notorious former tennis star – Lauren Asheim
Sesto Piquet, a tennis player, in love with Vitellia – Anna Hashizume
Coach Tito, a coach on the rise – Jim Ahrens
Publio, team statistician – Chris Noel
Servillia Jean King, a tennis star – Joni Griffith
Annio Armstrong, her doubles partner – KT Magnolia
Flavio, a tennis player – Sophie Negrete
Britannicus, – Jessica Luna
Suetonius, a sports reporter – Julia Chelimsky
Tranquillus, a sports reporter – Gabe Salmon
Locusta, an apothecary – Harper Hawley
Other Romans – Audrey Niemi, Andrew Niemi, Sophie Negrete, Ani Peichel, Will Dierenfield, Asher Edes, Renn Elkins, Luke Pickman, Gary Ruschman, Ginna Watson, Jacob Miller
Instrumentalists – Gary Ruschman (guitar, melodica), Luke Pickman (Cello and Clarinet), Ginna Watson (Violin), Lauren Asheim (guitar, uke)
Annio Armstrong will be played by Jen LeDoux on August 24 and 25
Publio will be played by Gabe Salmon on September 28
PROLOGUE – The Roman's visit the Oracle. 
ACT 1, SCENE 1: Vitellia seeks revenge.
Duet: Come ti piace– Vitellia and Sesto
Girl U Want (Casale/Mothersbaugh)
ACT, 1 SCENE 2: Coach Tito announces the line-up of the new team. 
Chorus: Serbate, oh Dei custodi
Aria: Del più sublime soglio – Tito 
ACT 1, SCENE 3: Tito's Club has huge success throughout the Roman Empire. 
Break My Stride (Prestopino/Wilder)
Duet: Cari accenti del mio bene – Annio and Servillia 
ACT 1, SCENE 4: Sesto Visits the apothecary and activates a deadly plan.
Bad Connection (Clarke)
Aria: Parto, ma tu ben mio – Sesto
ACT 1, SCENE 5: Servillia is injured and the club must recruit a new player. 
Trio: Vengo…aspettate … Sesto! -Vitellia, Publio, Annio 
ACT 1, SCENE 6: Sesto and the assassins set the club on fire. 
Act 1 Finale
ACT 2, SCENE 1: The tennis club is in ashes, the team is in shambles. 
The Promise (Nuttall/Mann/Farrington)
ACT 2, SCENE 2: A visit to the Oracle, Tito must make an important decision.
Chorus: Ah, grazie si rendano 
Aria: Tardi s'avvede – Publio 
ACT 2, SCENE 3: Sesto confesses, but who else will pay for their misdeeds? 
What's On Your Mind (Larson/Robb) 
Aria: Se all'impero, amici Dei – Tito
Trio: Quello di Tiro è il volto! – Tito, Sesto, Publio 
Berlin's No More Words
Aria: Non più di fiori – Vitellia 
ACT 2, SCENE 4: Grand Slam Final at the Colosseum
Love is a Battlefield (Knight/Chapman)
Act 2 Finale
Artistic Staff
Staging Director – Jacob (Jäc) Miller and Scotty Reynolds
Choreographer – Jacob (Jäc) Miller
Music Director and Arranger – Gary Ruschman
Artistic Associate and Production Manager – Asher Edes
Assistant Stage Manager – Renn Elkins
Set Designer – Duane Tougas
Costume Designer – Rhiannon Fiskradaatz
Production Chef – Tracy Yue
Food Team – Will Dierenfield
Administrative Team 
Audiences Services and Operations  – Anna Hashizume
Artistic Director  – Scotty Reynolds
Access Coordinator – Asher Edes
Education Workshop Facilitators – Joni Griffith, Serena Partridge, Gabe Salmon
Public Relations – Amy Danielson
Advancement and Sponsorship Manager – Adrienne Kleinman
Graphic Design – Felicia Pruitt-Brown
Merchandise Artisan – Nora Rickey   
Special thanks to our apprentice artists Renn Elkins and Gabe Salmon 
Advisory Team members, including Welles Emerson, Erik Broker, and Dr. Bill Beeman.
Also thanks to the staff at the Walker Methodist Health Center, First Unitarian Society of Minneapolis, St. Timothy Lutheran Church, ELCA of St. Paul, since they help us a lot with the health parts of our production, giving us the best advice in how to remain healthy, with the best exercises and even supplements like the ketosis pills amazon, which also help us a lot with this purpose.

Special Thanks to our Donors and Supporters who contributed $50 or more since December 1st, 2018 (apologies for any misspellings or omissions):
Nan Bailly
Tom Beach
Stephen Boland
Erik Broker
Kimlinh Bui and Family
Cynthia Callahan and John Berg
Andrew Csavoy
Jacob Deaver
James and Dorothy Dolezal
Joe Dolson
Deborah Egerdahl
 Kimberly J. Erikson
Leslie Foote
Judith Franklin
Melanie Griffith
Cherie Hales
Anna Halvorson
Kelley Harness
Brian Heller
Jake Holdreith
Kevin Holton
Emily and Barry Johnson
Klaus Kohlmayr
Beth MacDonald
Chantily Malibago and Kerry Hinze
Lynn Menturwerk
Jodi Miller
Chris Moench
William Moody
Sarina Partridge
Richard Piche
Roger and Constance Powell
Karen Reid
Philip Rickey
Mary Savina,
Susan Haas and Michael Sommers
Mary Savina
Nan Sorenson
Laura Stone-Jeraj
Bill Zajicek and Romi Slowiak
and a special gift dedicated to the memory of Tom and Margie Benda. 
Wedge Co-op, Urban Roots MN, Tiny Diner, Canine Coach, Lakewinds Co-op, Two Bettys 
Additional Sponsors: Chuck and Don's, Tangletown Gardens, Common Roots Cafe, Egg Plant Urban Farm Supply
Presenting Partners: The Women's Environmental Institute, Dodge Nature Center, St. Paul Parks and Rec, the Skidmore Park Community Garden, Ramsey County Parks, Alexis Bailly Vineyard, Mpls Parks and Rec, Bronx Park Neighborhood Association, New York Mills Cultural Center, Bakers Acres, Squash Blossom Farm, DreamAcres, Friends of Loring Park, Friends of Swede Hollow Park
Thanks to our fiscal sponsors Springboard for the Arts and Open Eye Figure Theatre.
Funders
The Twin Cities Opera Guild, Metropolitan Regional Arts Council (list logos), St. Paul Cultural STAR Fund 
This activity is made possible in part by a grant provided by the Metropolitan Regional Arts Council, through an appropriation by the Minnesota State Legislature from the Minnesota Arts and Cultural Heritage Fund.