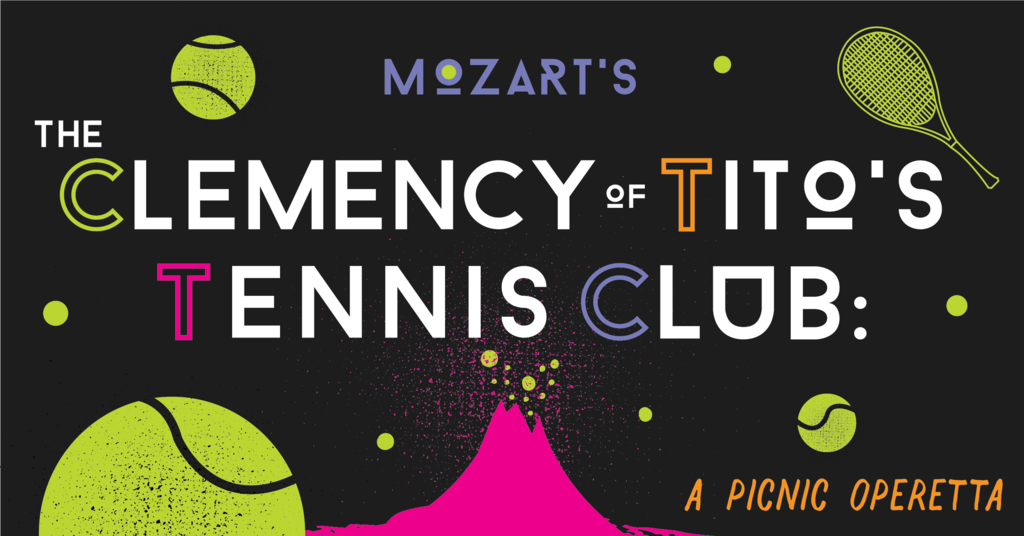 Hosts! Here are tools for you to promote The Clemency of Tito's Tennis Club: A Picnic Operetta in your area!
Share our Facebook event pages or create your own!
More on social media
Flyers
Images
Press release
Share our press release with your local media contacts.
Short description of the show for your website/newsletter/social media

A new adaptation of Mozart's opera, La Clemenza di Tito, with high stakes sports drama, natural disasters, and '80s new wave music! Celebrating its 11th season, Mixed Precipitation brings an edible opera adventure to parks, farms, and gardens throughout MN in August and September.
In this adaptation of Mozart's opera, a rag-tag group of players is resurrecting a defunct tennis club. But backstabbing, bitterness, and a murderous revenge plot threaten their rise to the top of Rome's championship match. Will they find redemption before Mount Vesuvius covers them in ash? When can cheaters be forgiven? All is presented with the Picnic Operetta's trademark style of playfulness, satire, and hope. Classic arias and duets from Mozart's La Clemenza di Tito soar across the garden alongside new wave and synth-pop hits by Devo, Berlin, Yaz, and Pat Benatar. Our operatic athletes will serve the audience some fresh edible bites as well.
FULL SCHEDULE, MORE INFO, AND TICKETS:
mixedprecipitation.org/shows/the-clemency-of-titos-tennis-club