There's a delicious opera growing in the garden!
Tales of Hoffmann: A Picnic Operetta
WHAT: Tales of Hoffmann: A Picnic Operetta
WHO: Director Scotty Reynolds in collaboration with music director Erik Pearson, choreographer Nancy Nair, collaborating chef Nick Schneider and eleven singers and musicians!
WHEN: Opening Saturday August 21st at 4:00 pm at the Eat Street Community Garden, continuing on Saturdays and Sundays through September 26th at 4:00 pm, audio description provided September 19th at 4:00 pm, ASL services provided August 29th at the JD River's Children's Garden at 4:00 pm.
WHERE: Twelve selected community gardens in Minneapolis, St. Paul, St. Louis Park and Falcon Heights (a listing of dates follows).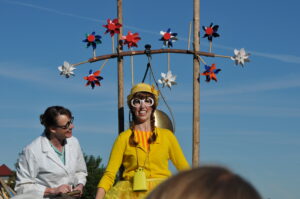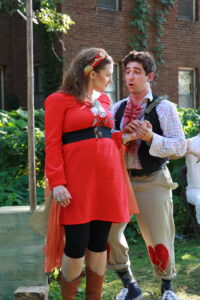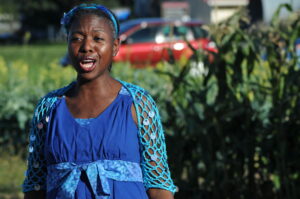 (Minneapolis, St. Paul, St. Louis Park, Falcon Heights MN) In a unique marriage of the theatrical arts and the sustainable foods movement, Mixed Precipitation presents Jacques Offenbach's masterpiece Tales of Hoffmann, an operetta touring to twelve community garden spaces during the 2010 harvest season. Our irreverent treatment of this opera is perfect for opera lovers, gardeners, kids, and foodies, as artfully created locally sourced food samplings are prepared fresh and served to translate events of the story. The unique community event is becoming a neighborhood tradition.
The 1851 opera is based on the macabre stories of German writer ETA Hoffman, whose material inspired Tchaikovsky's The Nutcracker and Neil Gaiman's The Sandman. In our version, Hoffmann is a globetrotting poet following his romantic whims across Europe and encountering fantastical adventures with robots, evil magicians and ghosts. Offenbach's score contains many classic melodies of light opera, including the famous gondola melody, The Barcarolle. You can also expect some other musical surprises from the popular songbook. Our story is told in French, Spanish, English and the universal language of food!
Mixed Precipitation is a new performance initiative, helmed by Scotty Reynolds, dedicated to exploring text and space and creating live events to explore multiple forms of human interaction. Our previous projects include various site-specific explorations. Mpls Pinter Studies: an evening of Harold Pinter in Promenade Style, played to sell-out crowds through its two-weekend run in the warehouse district and Tonya and Nancy: The Opera a mid-west premiere presented in conjunction with the Winter Olympics in Vancouver. Last summers' Orpheus and Eurydice: A Picnic Operetta played to capacity crowds throughout the metro area.
Collaborating chef Nick Schneider has worked as a chef alongside Brenda Langton for seven years, specializing in classical Mediterranean and locally sourced seasonal cuisine. Amongst catering and teaching operations, he's also a featured resident chef at the Mill City Farmers' Market. Our cast features many emerging singers; many have been featured with the Schubert Club, Skylark Opera, Minnesota Opera, Dead Composers Society and Minneapolis Musical Theatre. The cast features Lauren Drasler, Carmelita Guse, John Zeiler, as well as the returning Meredith Cain-Nielsen who played Tonya Harding in Tonya and Nancy: The Opera and Eurydice in last years' community garden tour. Local veteran Stephen Houtz plays the shape-shifting villain.
This activity is made possible in part by a grant provided by the Minnesota State Arts Board through an appropriation by the Minnesota State Legislature from the Minnesota arts and cultural heritage fund with money from the vote of the people of Minnesota on November 4th, 2008.
Mixed Precipitation presents
TALES of HOFFMANN: A Picnic Operetta
August 21st – September 26th
Voluntary Donations Appreciated $10 – $20
Performance Calendar
August 21 – Eat Street Community Garden
2416 1st Avenue South, Minneapolis
August 22 — Eat Street Community Garden
2416 1st Avenue South, Minneapolis
August 28 – Birchwood Community Garden
Vernon Avenue South and West 26th Street, St. Louis Park
August 29 – JD Rivers' Children's Garden
Glenwood Avenue and Washburn Avenue North, Theodore Wirth Park
***ASL SERVICES PROVIDED at the JD Rivers' Children's Garden
September 4 – Soo Line Community Garden
Garfield Avenue and the Greenway, Minneapolis
September 5 – Midway Greenspirit Community Garden
Taylor and Hamline Avenue, St. Paul
September 11 – Urban Farming Community Garden
12th and Morgan Ave North, Minneapolis
September 12 – Gateway Trail Community Garden
300 Arlington Avenue at Mississippi Street, St. Paul
September 18 — Swede Hollow Park
East Beaumont Street and Payne Avenue, St. Paul
September 19 – Bronx Park Community Garden
2500 Georgia Avenue and Cedar Lake Trail, St. Louis Park
***AUDIO DESCRIPTION PROVIDED at the Bronx Park Garden
September 25 – Augsburg Community Garden
20th Avenue South and S. 6th Street, Minneapolis
September 26 — Corner Copia Student Organic Farm
Cleveland and Larpenteur Avenue, Falcon Heights
Tickets: 612.619.2112
Donation appreciated, but no one will be turned away for lack of funds.
www.mixedprecipitation.wordpress.com
A note on access: We are prepared to provide reasonable accommodation to patrons with physical disabilities and those who require access services. Our performance is designed for on outdoor garden venue, with some movement required of the audience. A sighted guide is suggested for visually impaired patrons. Patrons are encouraged to call ahead to inquire about parking suggestions and access to each unique venue.