English Baroque gets punked!
An edible opera adventure for the whole family!
August 14th – September 21st, 2014
RSVPs strongly encouraged
Suggested Donation $10 to $20 per person
Running time: aprox. 1 hour and 15 minutes.
A punk retelling of Henry Purcell's 1684 English Baroque opera. Now in its sixth season, this edible opera adventure for the whole family plays in community gardens and urban farms throughout the Twin Cities.
King Arthur has gathered the elite Knights of the Round Table together to celebrate the expansion of their benevolent empire, Cameloteapolis. They're cutting the ribbons to celebrate the building of a colossal sporting arena to host a "Super Joust," but their grand vision faces a brand new threat — a bull-headed generation of young Saxon knights determined to destroy their new creation. Saddled by debt and underemployment, the Saxons have enlisted the "black magic" of the underworld. Will they use their magic to bring new prosperity or athletic success? And who will be king?
Click here for ACCESS INFORMATION to learn more about each performance site, including parking, transit, restrooms, rain sites, and accessibility for people with disabilities or mobility challenges. Review these details before the performance season begins so you can be prepared to take advantage of each site's unique set-up.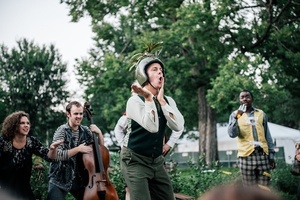 SATURDAY SEPTEMBER 20, 4pm,
Carleton Farm House
[MAKE A RESERVATION]
612 Three Oaks Drive, Northfield, MN 55057
SUNDAY SEPTEMBER 21, 4pm, Muriel Sahlin Arboretum [MAKE A RESERVATION]
2525 N. Dale Street Roseville, MN 55113 It is on Dale St. between Co. Rd. C and Co. Rd. B2
Big thanks to these sponsors who donated food, ingredients and serving supplies!
| | | |
| --- | --- | --- |
| | | |
| | | |
| | | |
| | | |
| "This activity is made possible by the voters of Minnesota through a grant from the Metropolitan Regional Arts Council, thanks to a legislative appropriation from the arts and cultural heritage fund." | | |