Photo Credit: Marie Ketring
Mixed Precipitation announces Escape from Alcina's Island: A Picnic Operetta
Media Contact: Amy Danielson: 612.245.2020 | danielson.amy@gmail.com
Celebrating its 7th season, the company brings opera, food, and outdoor fun to parks and gardens throughout MN in August and September
(Minneapolis) May 6, 2015 — Mixed Precipitation Theater announces Escape from Alcina's Island: A Picnic Operetta, a guitar-swinging retelling of the 1735 Handel opera, Alcina, performed throughout Minnesota in August and September. An edible opera adventure for the whole family, A Picnic Operetta marks a seven-year tradition of celebrating the harvest with a unique blend of music, horticulture, food, and storytelling. This year, A Picnic Operetta is moving beyond the Twin Cities metro area to perform in farms, vineyards, orchards and community gardens throughout Minnesota.
The sorceress Alcina, along with her ditzy sister Morgana, has been luring unwitting truckers to her diner truck stop where she turns them into animals to populate her roadside menagerie. But has she met her match in Bradamante, a young woman determined to free her lover, Ruddy, from Alcina's sinister clutches?
In this one-of-a-kind romp directed and adapted by Mixed Precipitation founder Scotty Reynolds, Italian baroque opera meets the truck-driving country anthems of the 1960s and '70s. Along with Handel's arias and choruses, the cast sinks their teeth into the gritty country tunes of Dave Dudley, Red Simpson, George Jones, and Tammy Wynette with songs like "Six Days on the Road," "Heartaches by the Number," "We're Gonna Hold On," and "Diesel Smoke, Dangerous Curves."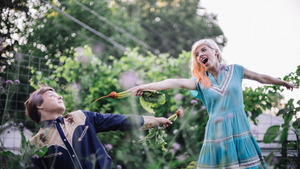 Cast and Creative Team
Carolyn Cavadini (soprano) will play Alcina. This summer she's performing roles with Skylark Opera and the Northern Lights Music Festival in Aurora, MN. The cast also includes Elizabeth Windnagel (soprano) as Morgana (Alcina's sister), Dan Piering (tenor) as Ruggiero, Justin Spenner (baritone) as the Wizard Melisso (also singing in Mill City Opera's production of The Daughter of the Regiment), Maggie Lofboom (mezzo) as Bradamante, Jim Ahrens (tenor) as Oronte. Maggie and Jim are both performing in A Picnic Operetta for the 4th time. Fourteen year old Grant Schumann is performing in A Picnic Operetta for the 5th time. Singer, actress, and composer Marisa Carr also joins the cast this year.
Marya Hart is the music director and arranger. The quartet of musicians will include Amy Waller (cello), Devan Moran (violin), Leif Peterson (violin and guitar) and Andy Lonning (accordion). Teresa Mock will craft the costumes and Erica Zaffarano the sets, props and scenic art.
No picnic is complete without delicious food. Mixed Precipitation blends sweet and savory bites into the storytelling to celebrate the harvest. Chef Nick Schneider will craft a tasting menu that adapts to the story and invites the audience to taste the edible beauty of the landscape. The menu this year will include Alcina's open faced tomato cheddar melt sandwich, a refreshing watermelon canapé with feta and mint, Alcina's antipasti, a smoky sweet pepper jerky, dill pickles on squash chips, and more. Food operations will be led by Kimlinh Bui of Sacré Sweet catering. Kimlinh leads teams of volunteers crafting the edible experience for each performance.
Fun for all ages, this mix of theater, food, and music runs approximately one hour and 15 minutes.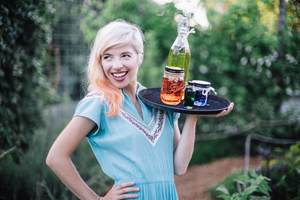 Tour Dates
Sunday, August 16, 2pm (preview)
Women's Environmental Institute, 15715 River Rd, North Branch, MN 55056
Wednesday, August 19, 7pm (preview)
Northeast United Methodist Church, 2510 Cleveland St NE, Minneapolis, MN 55418
Thursday, August 20, 7pm (opening)
Dodge Nature Center, 1701 Charlton Avenue, West St. Paul, MN 55118
*ASL Interpreted Performance
Saturday, August 22, 4pm
Food Farm, 2612 County Road 1, Wrenshall, MN 55797
Sunday, August 23, 4pm
Falcon Heights Community Garden, 2050 Roselawn Ave W, Falcon Heights, MN 55113
*ASL Interpreted Performance
Friday, August 28, 7pm
JD Rivers' Children's Garden, 2900 Glenwood Ave, Minneapolis, MN 55405
Saturday, August 29, 4pm
Bakers' Acres, 36861 Co. Rd. 9, Avon, MN 56310
Sunday, August 30, 4pm
Skidmore Park Community Garden, 1085 East 4th St, St. Paul, MN 55106
Saturday, September 5, 2pm
Alexis Bailly Vineyard, 18200 Kirby Ave S, Hastings, MN 55033
*Audio Described Performance
Sunday, September 6, 4pm
Squash Blossom Farm, 7499 60th Ave NW, Oronoco, MN 55960
*Audio Described Performance
Saturday, September 12, 4pm
Eat Street Community Garden, 2416 1st Ave, Minneapolis, MN 55404
Sunday, September 13, 4pm
Muriel Sahlin Arboretum, 2525 North Dale Street, Roseville, MN 55113
Saturday, September 19, 4pm
Robbinsdale Community Garden, 4239 Halifax Ave N, Robbinsdale, MN 55422
Sunday, September 20, 4pm
Swede Hollow Park, 657 E Beaumont St, St. Paul, MN
Reservations
Please call 1-800-838-3006 or visit mixedprecipitation.org for reservations. Reservations will be available on June 1. Seating is limited and reservations are strongly encouraged. The suggested donation is $10 – 20 per person. Donations are a critical source of funding for The Picnic Operetta and can be made with your reservation or collected at the end of the performance. No one will be turned away for lack of funds. Patrons are encouraged to bring their own blankets and lawn chairs. Some blankets are provided.
Access
We're offering ASL interpretation on Thursday August 20th at 7:00 pm Dodge Nature Center and Sunday, August 23rd at 4:00 pm at the Falcon Heights Community Garden. Our ASL interpretation team is Rachel Hartland and Betsy Carter. We're offering audio description services on Saturday September 5th at 2:00 pm at the Alexis Bailly Vineyard and Sunday September 6, 4:00 pm at Squash Blossom Farm. Audio Description and touch tours will be provided by Scottie Hall.
We are prepared to provide reasonable accommodation to patrons with physical disabilities and those who require access services. Our performance is designed for an outdoor garden venue. A sighted guide is suggested for visually impaired patrons. Please call Tour and Company Manager Rachel Wandrei (617-543-5770) for parking suggestions and access to each unique venue. Find additional info about access services, ASL, captioning, and audio description at mixedprecipitation.org. The opera is sung in Italian with English supertitles.
About Mixed Precipitation and A Picnic Operetta
Mixed Precipitation's mission is to create unexpected theatrical experiences through unique partnerships and festive events that inspire social engagement. More info at mixedprecipitation.org.
Each summer we present our signature event, A Picnic Operetta, a lively theater experience touring community gardens and other green spaces throughout the Twin Cities Metro and Greater Minnesota. A five-course tasting menu of locally grown, performance-inspired delicacies is served during the show. We bring together classical music, horticulture, food, and storytelling into a celebration of the urban eco-system.
This activity is made possible in part by a grant provided by the Metropolitan Regional Arts Council and the Minnesota State Arts Board, through an appropriation by the Minnesota State Legislature from the Minnesota Arts and Cultural Heritage Fund.