LINZER COOKIES WITH LEMON CURD
The Parent Teach Association at Strange Land Middle School offer this tasty treat from the Pickup Truck Opera Vol. 2: The Magic Flute. Created by Harper Hawley for our 2022 production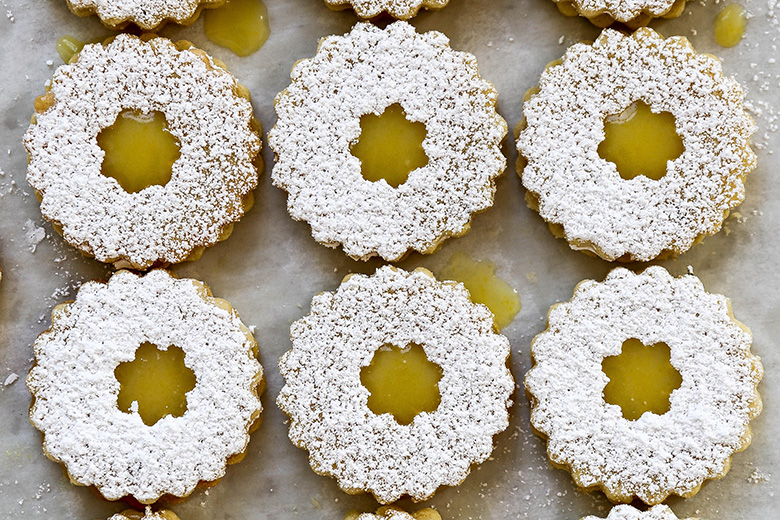 Ingredients
1 cup unsalted butter
1 cult powdered sugar, sifted
2 large egg yolks
1/2 tsp salt
1/2 tsp cinnamon
1 tsp vanilla extract
2 tbsp freshly squeezed lemon juice
2 1/2 cups all purpose flour, spooned and leveled
1 cup almond flour, spooned and leveled
1/2 cup lemon curd
optional powdered sugar for decoration
Directions – makes approx. 32 cookies
a large bowl mix the butter until it is creamy (1-2 mins). Add one by one the sugar, egg yolks, salt, cinnamon, vanilla, and the lemon juice and mix until incorporated. Slowly stir in the all purpose flour and almond flour to combine.
Divide the dough in half and shape into 1 inch thick discs. Wrap in plastic wrap and chill for at least an hour (if chilled in the freezer, let thaw before proceeding).
Preheat the oven to 350 degrees F. Line two baking sheets with parchment paper, and set aside.
On a lightly floured surface, roll out one dough disc at a time, until they are 1/4 inch thick. Using a 2 inch cookie cutter of your choice, cut out the cookies and place them about 1/2 inches apart on the prepared baking sheets. With a smaller cookie cutter or knife make a cutout in the center of half of your cookies. We used a star shape.
Bake one sheet at a time for 9-10 minutes or until they look dry. Cool on the baking sheet for five minutes, and then transfer to a cooling rack to cool completely.
Fill cooled cookies with lemon curd by spreading jam on one cookie, then placing another with a cut-out on top. You can sprinkle them with powdered sugar if you prefer. Store in an airtight container at room temperature for up to a week, or freeze them for up to three months.
Note from Harper: "For the Magic Flute, I opted to use lemon curd in lieu of jam.  Lemon curd is creamy and tart, and a bright complement to the traditional Austrian cookies.  For the lemon curd, I used Ina Garten's lemon curd recipe, but store bought is fine."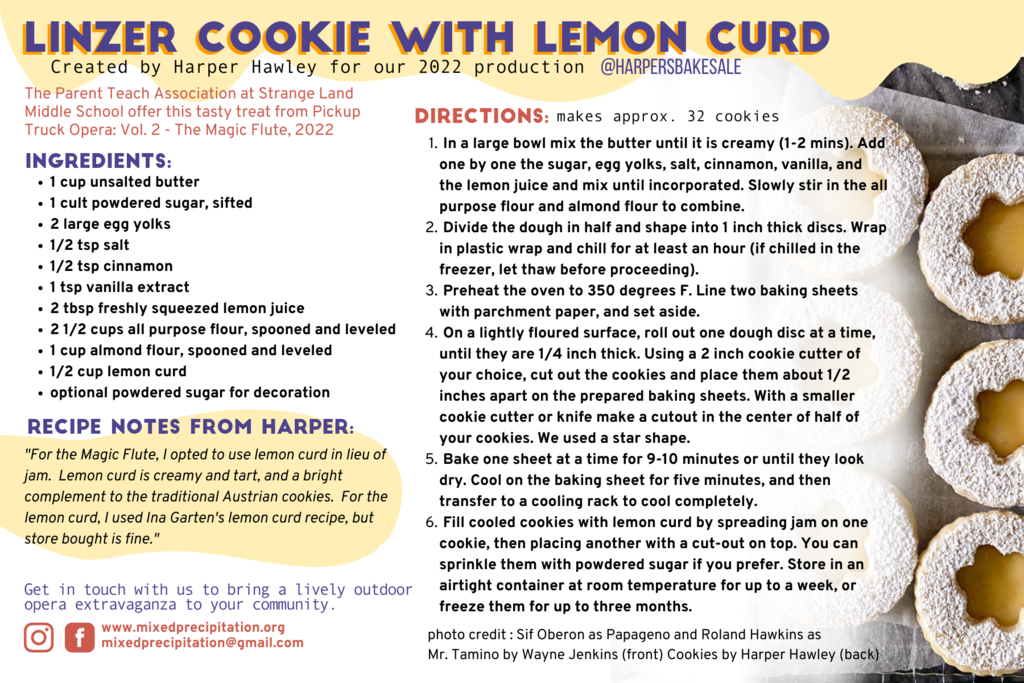 From the annals of Picnic Operetta Past, a pairing of …
…Tales of Hoffman's The Diabolical Lindorf Aria with a bitter-sweet cool glass of Elderberry Kombucha bubbly.
…From Alcina's Island 2011, "Six Days on the Road Tonight" with a dinner rest-stop delicacy, a truffled tomato cheddar melt.
…From Orpheus & Eurydice, a Picnic Operetta, Otis Reading's Pain in My Heart with a Broken Hearted Baby Beet.
or from the annuls of Italy's Culinary Canon:
try a pairing of Proseco with Parmigiano Reggiano to the tune of Giuseppe Verdi