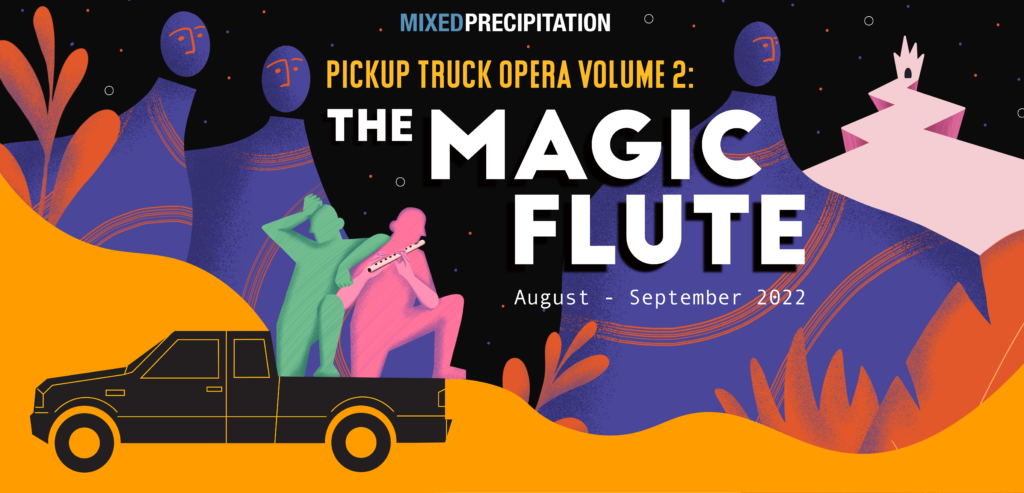 Mozart's 1791 opera,  Die Zauberflöte (The Magic Flute), is thrust into modern times and a not-so-distant future. Our young heroes are early-career professionals entering essential professions with a high risk of burnout.  Young Tamino is a first-year teacher at an underfunded school, Strange Land Middle. Pamina is a mental health nurse, but she's been highjacked by a wellness startup.
This futuristic telling of the opera is created by music director Gary Ruschman, playwright Francisco Benavides, and staging director Taous Khazem.  Mixed Precipitation tells the story with a cast of singers, puppeteers, and instrumentalists, featuring Mozart's fiery arias, epic choruses, and the groovy beats of the 90s discotheque, including Deee-lite, Pizzicato Five, Icelandic pop star Björk, and other 90s hits.
Our cast and crew of thirteen professional artists will bring a fresh version of Mozart's Die Zauberflöte (The Magic Flute) to communities throughout Minnesota this summer, including the North Shore, Iron Range, and southeastern Minnesota, as well as Viroqua, Wisconsin.
2022 TOUR DATES TO BE ANNOUNCED SOON!
CAST:
Pamina - Corissa Bussion and Jennifer LeDoux (week 3 and 4) 
Tamino - Roland Hawkins
Sarastro - Rudolfo Nieto 
Queen of the Night - Lizz Windnagel
Papageno - Loki Graham and Nick Miller (week 3 and 4)
Lady of the Night / Papagena - Joni Griffith
Monostatso / Puppeteer - Jäc Miller

INSTRUMENTALISTS:
Ginna WatsonInstrumentalist
Uchenna Chidozie
Gary Ruschman 
TRAVELING STAFF:
Stage Manager - Brian Hirt
Audience Services - Alex Yang
Tour Manager and Producer - Scotty Reynolds
Production Manager (Driver) - Jäc Miller 
Anti-Oppression and Wellness Facilitator - Akiko Ostlund 

CREW:
Staging Director - Taous Khazem
Music Director - Gary Ruschman 
Contributing Writer - Francisco Benavides 
Costume Designer - Rhiannon Fiskradatz
Puppet Designer - Lizz Windnagel 
Choreographer - Jäc Miller
Anti-Oppression and Wellness Facilitator - Asher Edes