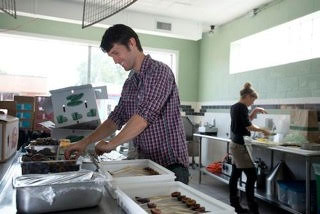 Join our Volunteer Team!
Mixed Precipitation relies on a community of dozens of volunteers to support our performances and prepare amazing food. We're always looking for more helping hands! As a volunteer, you'll have the opportunity to:
Help keep the Picnic Operetta accessible to everyone.
Eat delicious fresh food from local farms and gardens.
Learn cooking tips and delicious recipes.
Get a warm, fuzzy feeling!
Meet all the awesome people working on this creative project.
VOLUNTEER OPTIONS: 
Click on the links below to see our schedule. Use the form below to submit your information and preferences.
KITCHEN NINJA
Craft canapés with chefs Nick Schneider and Kimlinh Bui, and the Food Team of Asher and Jesse as you roll, stuff, spread and garnish your way across our theatrically-charged menu!  Kitchen Ninja shifts take place at the City Food Studio at 3722 Chicago Ave S, Minneapolis, MN 55407.
Shifts are weekday evenings and weekend mornings. Below you'll see specific times listed.
GARDEN STEWARD
You will provide hospitality and accessibility for all community members attending the performance.  You will welcome audiences to new green spaces, plate and serve courses of opera-inspired edibles during the show, and assist with merchandise sales after the show!
Shifts begin one-hour before performances start, and last about three hours max.
QUESTIONS?
Contact our Volunteer Coordinator at volunteer@mixedprecipitation.org
Please read this Volunteer Liability Release and Consent Form.