Learn how you can bring the Pickup Truck Opera to your community.
"You guys came in like a fricking Mack truck of sunshine. You were funny, you were meaningful, you were beautiful singing and line dancing and silly puppets, and everyone loved it. Neighbors who never socialize told me how much they liked the show and almost all of them had never been to an opera before." Audience at 2020 workshop production, St. Paul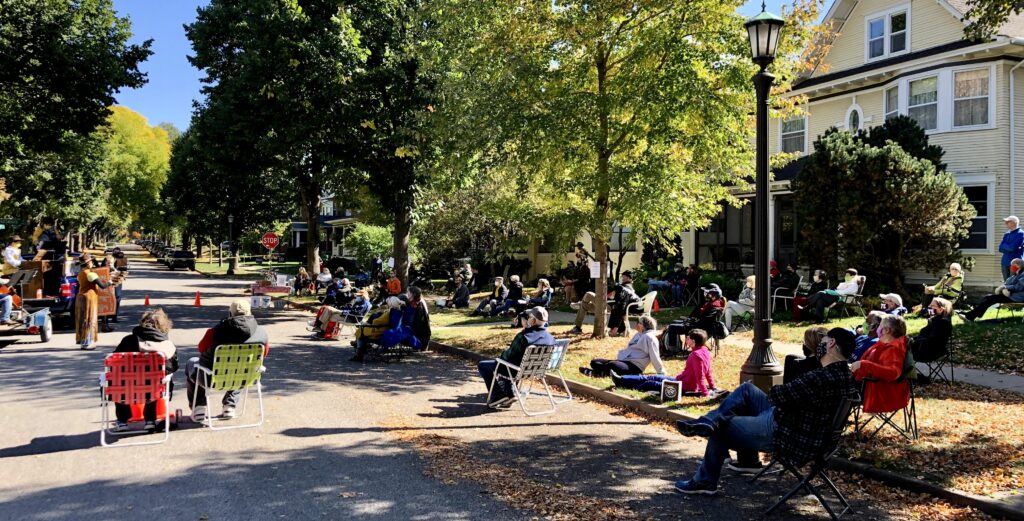 Let's get in touch about bringing a performance to your community! Like many great epics, our opera is a trilogy of mini-performances that can be viewed individually on a summer evening, or all at once on a weekend afternoon.
Just as the wandering bard Homer recounted the adventures of Ulysses in story and song, the players of Mixed Precipitation are hitting the road for an operatic epic. We did a test-run of our production in October 2020, complete with social distancing and masks. We're excited to share it within the safety parameters and CDC guidelines of each community.
Pickup Truck Opera riffs on episodes of Homer's Odyssey in a multi-episode traveling saga! Like a theatrical ice cream truck, our pop-up spectacle brings music, edible treats, and fun to neighborhoods, parks, dirt roads and alleyways. It's fun for all ages.
The music of Claudio Monteverdi's

Il ritorno d'Ulisse in patria (The Return of Ulysses to His Homeland)

, and the tunes of Dolly Parton.

With a cast of five spirited performers, with fiddle, banjo, pump organ, and puppets, the epic comes to colorful life in bite-size installments.

The stage is a 2011 Ford Ranger Pickup and flatbed trailer: we can take it almost anywhere!

The story features Cyclopses, Sirens, and mythic monsters alongside humans battling to be reunited following war.

Frozen otter pops, caramel apples, and other

packaged

seasonal goodies accompany our story – a new tradition of feasting with story and song that's safe for our time.

In the fall of 2020 neighborhood groups, individuals, and organizations like Friends of St. Paul Parks,

the

Summit Avenue Residential Preservations Association, Park Square Theater, and Steppingstone Theater for Youth hosted workshop performances reaching audiences of
We are committed to ensuring economic access for our unique performances, transforming opera into a neighborhood experience. Support from our funders, many individual gifts, and the Minnesota State Arts Board allows us to reach many different types of audiences.
We can present pop-up performances and full epic performances. Click to play the animation created by performer Joni Griffith to see what a performance looks like in a neighborhood.
Pop-up performances are approximately 25 minute "episodes". The show is designed to meet communities in their own neighborhood. These performances are great for block gatherings, private parties, festivals, and summer recreation programs.
The recommended performance fee for a pop-up performance is $500. These funds can come from "pass the hat" contributions at the performance, or these funds can come from neighborhood teams who supplement contributions to meet the $500 goal. We are very flexible.
There are three episodes we are performing in 2021.
Episode 1: Penelope and the Carnival of Menace
Episode 2: The Voyage of Ulysses
Episode 3: Telemachus Fights Back.
Full epic performance is approximately 90 minutes. It is designed for a large outdoor green space on a weekend afternoon. We have performed in parks, arboretums, farms, orchards, and vineyards. Working with presenting partners, we recommend a performance fee of $2,000.
We will work with partners to coordinate marketing and access services so that all can be welcome at our performances.